There's no doubt that much of the returns in the market have been driven by the ultra-low interest rate environment. With interest rates in Australia and much of the world looking like they are still headed down, how do you identify yield shares?
The key with yield is that you don't see asset price deterioration at the same time. You don't want to be earning a good yield only to see the share price of your company drop while you hold the share. Generally, not only do you want to see a strong dividend yield, but you also want to see growth in revenue, cash flow and/or earnings.
The good news is that with Bell Direct's Strategy Builder, you can do this with the click of a few buttons.
If you don't want to create your own Strategy Builder screen from scratch, you can view the one I've saved into the Featured Screens section under "Sustainable large cap dividend". As you can see from the screen shot below, this strategy has outperformed the market on a 6 month, 1-year, 3-year or even 5-year timeframe. Over 5 years, it's resulted in a return of 76.3% rebalanced on a 3 month buy and hold basis.
To get started with Strategy Builder, log in to your Bell Direct account, go to Research & tools > Strategy Builder and start using the filters to find shares that match your fundamental or technical criteria.
Don't forget to use the back testing tool to see how the strategy would have performed historically under the performance tab and don't forget to research further.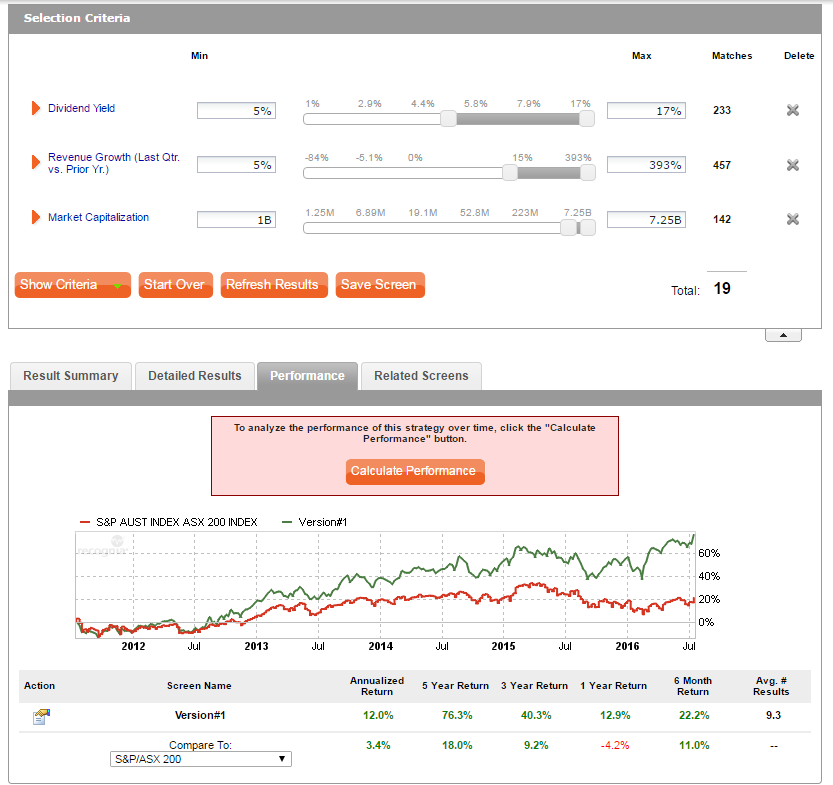 Happy investing!
Julia Lee
Equities Strategist, Bell Direct