Understanding what you're buying and your cash flow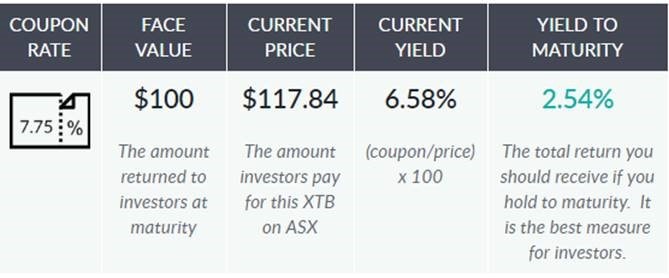 The key terms to be aware of when investing in bonds and XTBs:
Current Price: The price paid for the XTBs when bought on ASX.
Coupons: What you receive during the life of your XTB investment, paid half yearly or quarterly.
Coupon Rate: Reflects the amount paid as a percentage of the Face Value per XTB (i.e. 500 XTBs x 7.75% x 100 = $3,875).
Current Yield: Similar to the Dividend Yield on shares. It is the yield you will receive each year, based on your XTB Buy price (i.e. $7.75 / ($117.84 x 100) = 6.58%).
Face Value: The amount you receive at maturity per XTB (500 XTBs x $100 = $50,000).
Yield to Maturity: Reflects your overall return, based on the Current Price, receiving Coupons during the life of the XTB and the Face Value at maturity.
Discover how corporate bonds work.