You can access the benefits of ASX corporate bonds using the same platform as your shares, with your Bell Direct account and XTBs.
XTBs (Exchange Traded Bond units) are a way for investors to access the returns of individual ASX corporate bonds. They provide a listed fixed income alternative in a diversified investment portfolio.
Buying XTBs is just like buying shares. They have the same benefits of ease of access and transparency as other ASX investments you trade through your Bell Direct account.
Understanding what you're buying and your cash flow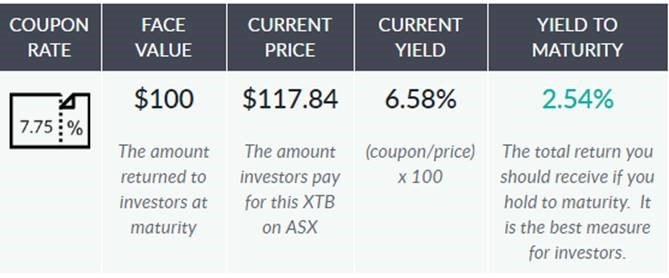 The key terms to be aware of when investing in bonds and XTBs:
Current Price: The price paid for the XTBs when bought on ASX.
Coupons: What you receive during the life of your XTB investment, paid half yearly or quarterly.
Coupon Rate: Reflects the amount paid as a percentage of the Face Value per XTB (i.e. 500 XTBs x 7.75% x 100 = $3,875).
Current Yield: Similar to the Dividend Yield on shares, it is the yield you will receive each year, based on your XTB Buy price (i.e. $7.75 / ($117.84 x 100) = 6.58%).
Face Value: The amount you receive at maturity per XTB (500 XTBs x $100 = $50,000).
Yield to Maturity: Reflects your overall return, based on the Current Price, receiving Coupons during the life of the XTB and the Face Value at maturity.
Discover how corporate bonds work.
Diversifying beyond cash & Australian equities with corporate bonds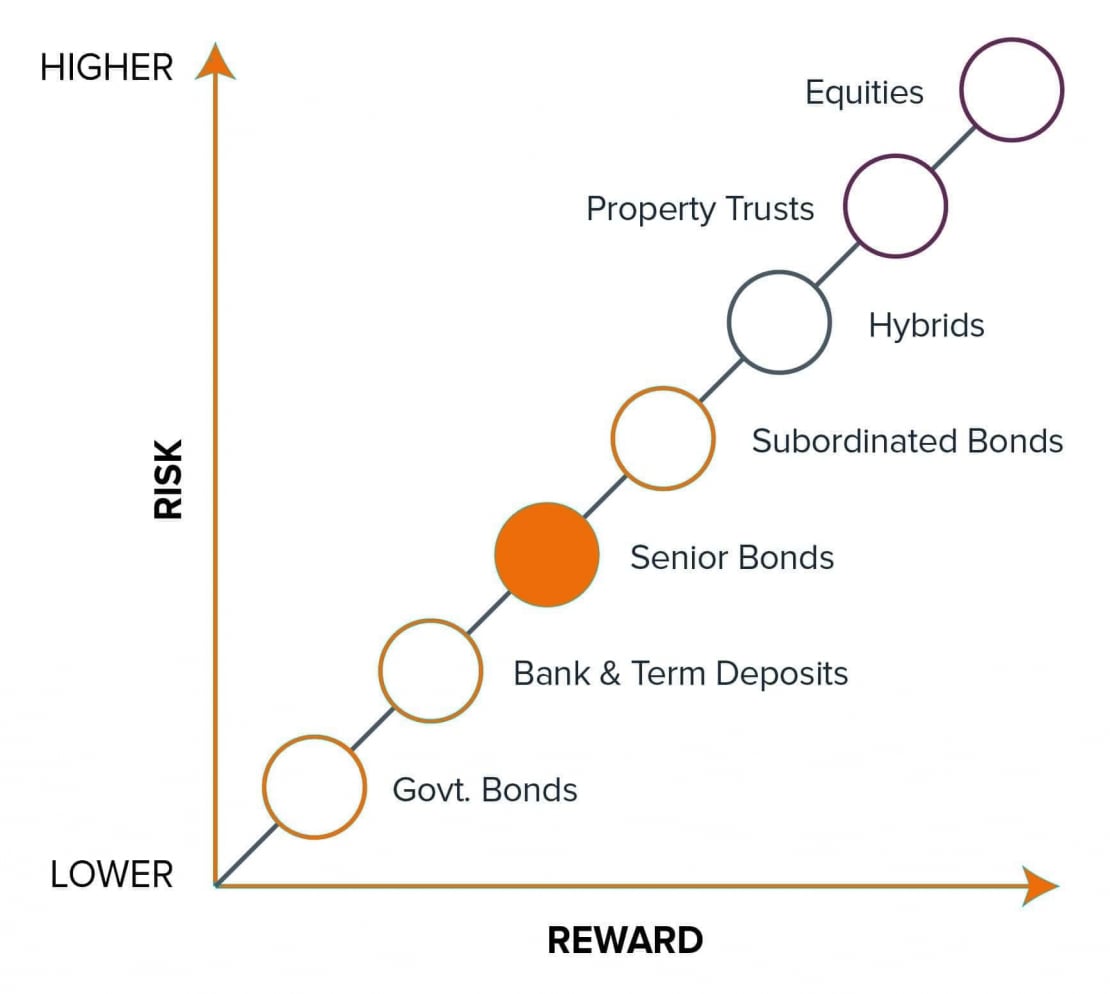 When investing in XTBs, you get:
Choice & access to a wide range of corporate bonds from ASX 100 companies, previously only available to institutional investors
A regular and predictable income stream so you can match your income to your cash flow requirements
Corporate bonds offer capital stability and greater security of capital repayment than shares and hybrids
Available to SMSF as part of their investment portfolio
Build your XTB portfolio & calculate your income
Simply click here to start building your own portfolio of up to 10 XTBs around targeted investment themes.
You will be asked to:
1. Choose the right Starter Pack for you from the four Packs available (High yield, Cash Plus, Top Brands and Maturity Ladder) or create your own portfolio.​
2. If you chose a Starter Pack, enter your investment amount which will be allocated according to the portfolio weightings across the pre-selected XTBs.
If you chose to build your own portfolio, select up to 10 XTBs and either enter an overall investment amount to be split equally across your chosen XTBs, or select individual investment amounts for each XTB.
All the XTBs currently available are listed here.
3. Calculate your cash flow using the tool on the XTB website
Investing in corporate bonds via XTBs is similar to investing in equities. Simply place an order online through our order pad.
To start trading, follow these steps:
Use the 

XTB interactive table

 to select the XTB that meets your needs and read the relevant Product Disclosure Statement (PDS) for the XTBs you have selected.
Login to your Bell Direct account and enter the ASX 6-letter code (starting with YTM) of the XTB product you wish to trade in the Trade icon.
Enter the quantity or value of units you wish to buy or sell, the price and the validity of your order.
Your order is placed; your new XTB units are transferred to your CHESS holdings and you'll see them in your portfolio.