At Bell Direct, we understand that entering into the share market is exciting, but also perhaps a bit of a mystery, so we've put together this page to highlight all the tools and features you'll receive that will help you kick start your investing journey.
So what makes Bell Direct simply better?
When you open up an account with Bell Direct, you'll receive six bullish and bearish trading ideas each day in your inbox, plus, a breakdown of the technical or fundamental supporting reasoning.
This easy-to-read report includes details like: Your account summary, Holdings valuation, Direct Investment Account summary, Transaction summary, Brokerage and Estimated dividend summary.
You'll get access to Bell Potter's experienced and qualified analysts research every day after your first trade. This research covers Australia's top ASX-listed companies and a range of selected mid-cap and emerging companies.
In the first place, Bell Direct was created because we felt the banks were ripping people off on brokerage. Years later, our fees are value for money, transparent and easy to understand.
We are backed by Bell Potter
a leader in the Australian stockbroking
industry since 1970
Mobile trading in the palm of your hand
Trade anywhere, on the go, whenever markets are open. 24/7 Access to your account to get stock quotes, track your portfolios and view the latest research using our intuitive, easy to understand mobile platform.
Bell Direct mobile trading is available on iPhones and Androids. It's web-based, so there's nothing to download and install.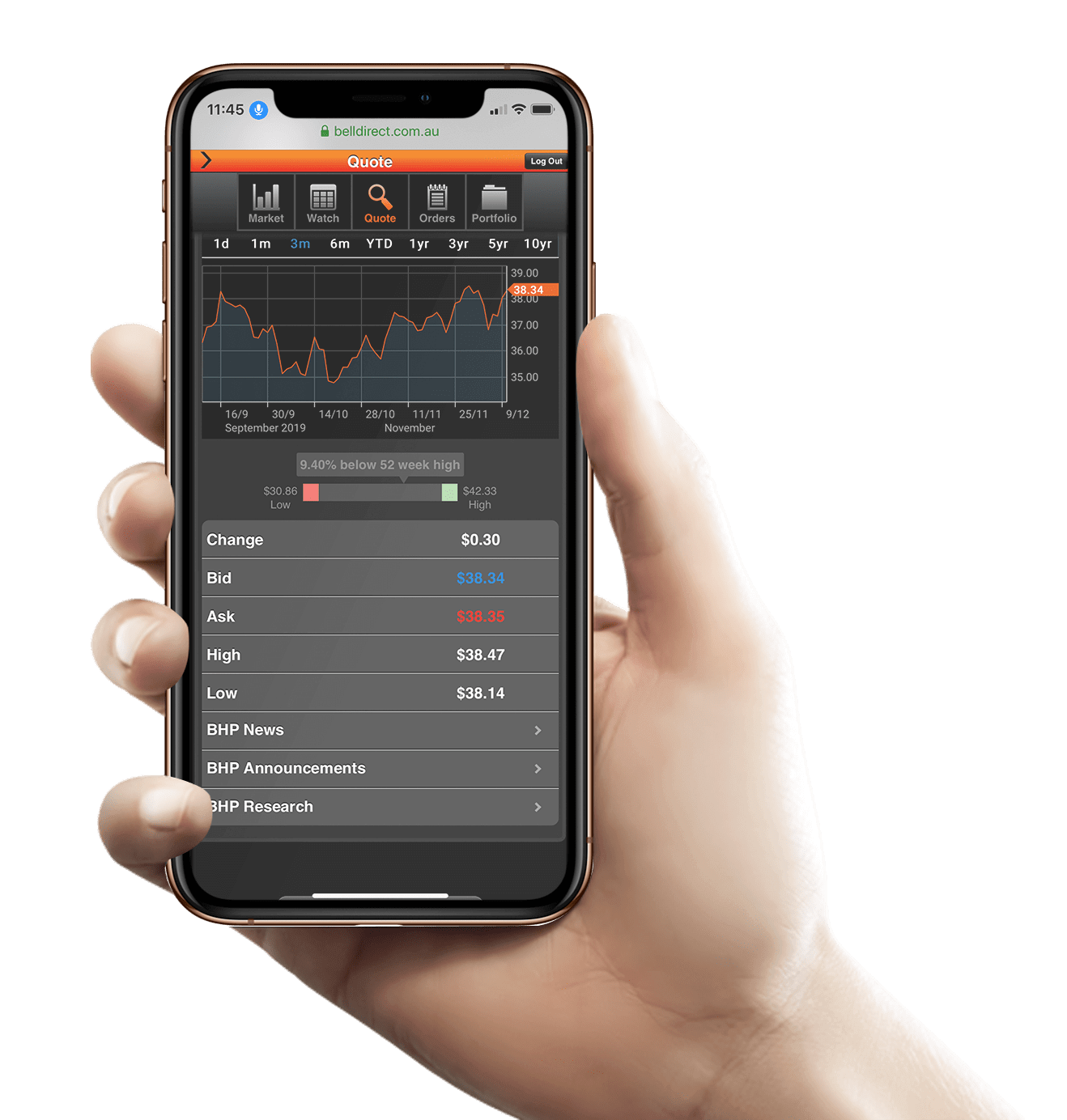 Questions some new investors ask
If you have more detailed questions please call us on 1300 786 199
More FAQs
Ranked No 1. for overall client satisfaction by our toughest critic.
You.
Investment Trends investors surveys have ranked us No1 for Overall Client Satisfaction 2013, 2014, 2015, 2016, 2017, 2018, 2019.