Margin lending is a great way for you to increase the size and diversity of your portfolio.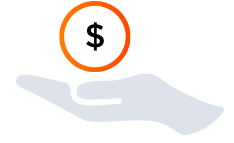 Direct margin lending rate
7.30% pa

Administered by Bell Potter
Direct margin lending
With this Bell Direct integrated solution, you can place orders, settle your trades and earn a decent daily interest rate on your cash.
You get:
A flexible loan facility
Your cash and your geared shares consolidated into one trading account
A fully automated solution, so stock holdings immediately reflect executed trades
All trades administered by Bell Potter Capital using straight through processing, just like your regular Bell Direct share trading account
Free conditional orders
An extensive approved security list
How the direct margin loan works
Loan to Valuation Ratio (LVR) and margin loan rates are benchmarked to best in market
Earn a competitive interest rate on your cash (when your account has a positive balance). Alternatively, when your margin loan is drawn down you'll pay the variable margin loan interest rate of 7.30% pa.
Orders validated online as they are placed
See real time data for your LVR every time you view a stock or on the order pad along with:

Approved security list (updated daily). Click here for recent updates to the approved security list.
Credit limit
Loan balance
Surplus (funds available for shares purchased or funds withdrawn)
Portfolio holding balance - under Borrower facility - to include profit/loss by stock as well as cost price

Set email and SMS alerts to let you know if your loan is in the buffer (i.e. when the margin ratio is 100% or more)
Pre-pay your interest
Trade on the go from your margin loan account using the Bell Direct website or your Smartphone (iPhone and Android)
Key features
Minimum initial loan
None for variable, $25,000 for fixed
Minimal loan balance
None for variable, $25,000 for fixed
Minimum loan drawdown or repayment
None for variable (does not apply to fixed)
Minimum call buffer
10% of the geared value of the shares
Minimum loan balance
None for variable, $25,000 for fixed
How to apply for a direct margin loan
New clients
For new clients, to apply for your margin lending account, all you have to do is set up a new trading account for your margin loan.
Existing clients
If you are already a Bell Direct client, please set up an additional account for margin lending here. As part of the application process you will need to complete a credit limit request form. You'll be asked about your income, expenses, assets and any debts you may currently have. You will also need to provide proof of income (e.g. your last two payslips or most recent tax return).
As with any investment strategy there are risks, so as your first step make sure you read the product disclosure statement and the terms and conditions.