Recognia strategy builder
This exciting portfolio tool lets you:
Identify new opportunities and strategies
Choose from a list of pre-built expert strategies
Create your own strategy to identify opportunities based on fundamental and technical analysis
You can also test your chosen strategy and see how it would have performed over the last 6 months.
Recognia technical insights
With Recognia technical insights you can:
Check for signs of strength and weakness by applying over 30 types of chart patterns, candlesticks, indicators and oscillators
Find trading ideas
Research and validate picks
Find exit and entry points
Monitor your stocks
Market map
A quick click gives you a snapshot of the whole market.
Create a market map for a complete market overview
Define by market, index, sector, your watchscreen or portfolio
Bookmark or share to any site or blog
Unusual volume
See what's coming up:
List stocks with unusual trading volumes
Get a better understanding of the flow of trades in a particular stock
Advanced charting
We have been working with Markit Digital to develop a new generation of charting functionality for our clients. It will help you visualise complex pricing data and technical indicators in a simple way. With Markit's charting solutions, you can now directly manipulate the data displayed via panning and zooming. You can also draw on, annonate and save all your charts. With a fully responsive technology that doesn't require any plug-ins, data and events are displayed in a clear and smart way on all your devices.
The features include:
Fully responsive layout
Panning and zooming of all chart data (including all indicators)
Smart, dynamic X and Y axis labels when panning and zooming (including all indicators)
On-the-fly backfilling of historical data when panning and zooming (including all indicators)
Crosshair tracking and display of Open/High/Low/Close data points responding to mouse coordinate
Clear titles, well-placed labels, proper display of key dates and comparisons across multiple time zones and exchange holidays
​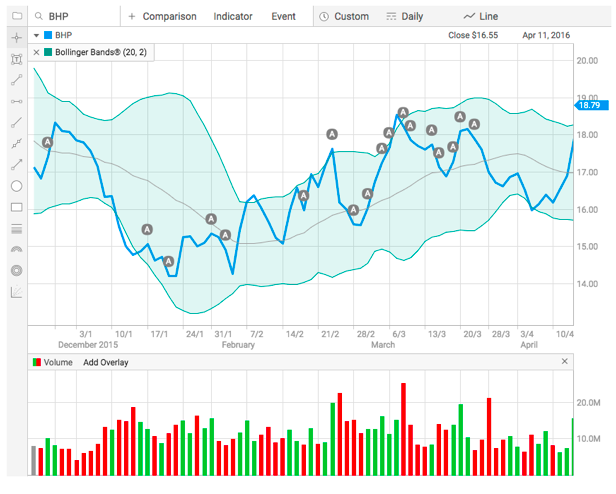 Changes in substantial holdings
Catch the big players making a move:
View a complete list of substantial shareholder changes for any stock
Search by stock code and date
All in one place in real time
Directors' trading
Keep an eye on directors' trading:
Complete list of directors' trading in their own company
Access ASX announcements and news about directors' interest
Search by stock code and date
All in one place in real time
Visual depth chart
See trading volumes instantly:
View market depth and detail easily with a visual chart
Toggle between the text-based list or the chart - whichever you prefer