Whether you're boosting your potential returns with leverage or want to access more funds for investing, margin lending is a powerful investment strategy.
A margin loan enables you to borrow money by using your existing portfolio holdings as security.
By accessing more funds, you can increase the amount you have invested. This means you can work on building the portfolio you thought was out of reach.
Find out how it works below.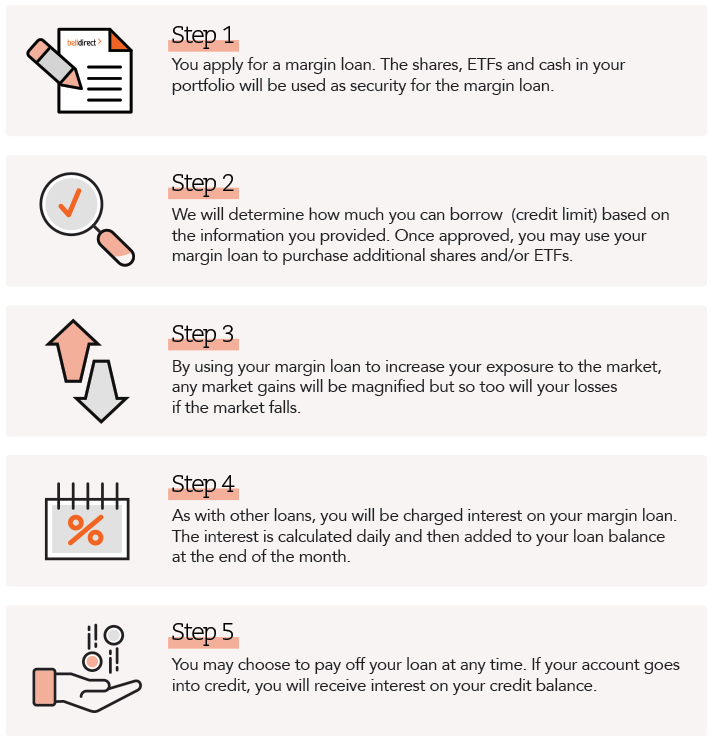 The upside and the flipside of margin lending.
Boost your investing power – you can access more funds to make more investments and increase your potential returns and dividends.
Diversify your portfolio – with these additional funds, you can increase your investment options and invest in more sectors and asset classes.
Claim tax benefits – you may be able to claim the interest on your margin loan as a tax deduction.
Losses are magnified – borrowing to buy more shares increases the size of your investments but also increases the risk of capital loss.
Interest rates can fluctuate – unless you've opted for a fixed rate loan, interest rates could rise and increase your borrowing costs and potentially reduce your profits.
Margin calls can be triggered – if the value of your portfolio falls sufficiently, you may receive a margin call and must either sell part of your portfolio, provide additional security or repay the loan.
The power of a margin loan in a table
Check out this case study which compares the difference in potential returns between an investment with a margin loan and without.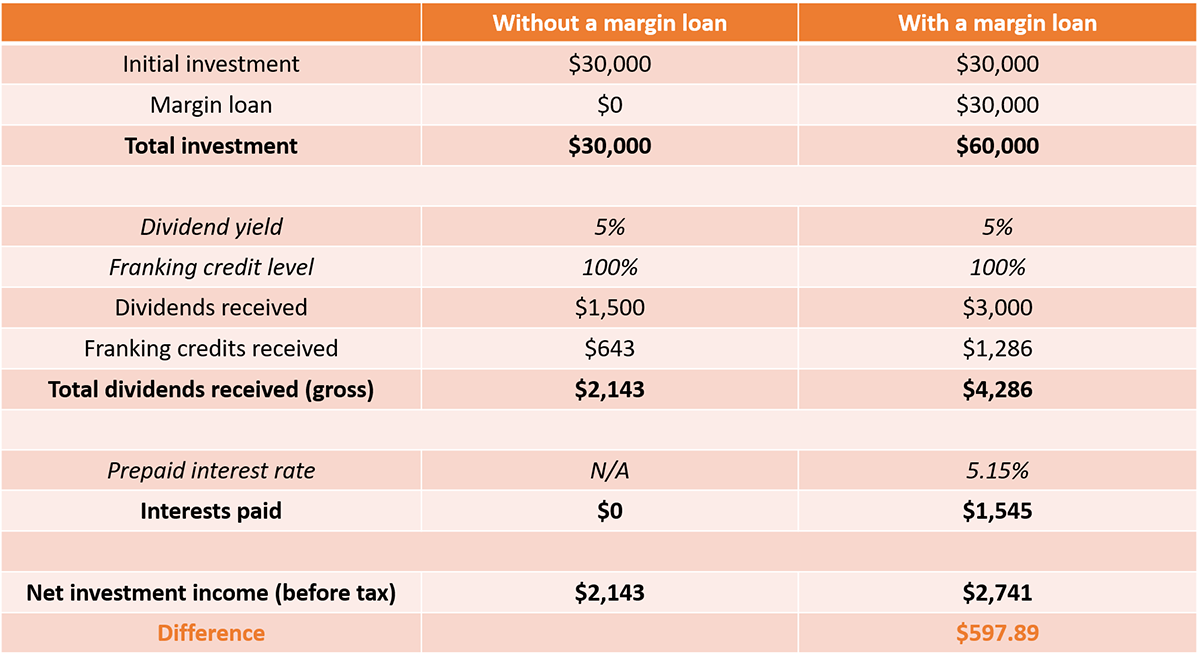 In this example, a 50% level of gearing has improved returns by 27.90%. The net investment income has increased and the exposure to the share market has doubled.
Please note: the interest rates, dividend yields and franking credits used in this case study are for demonstration purposes only.
Our Direct Margin Lending solution
To make it easy, we've given you a comprehensive margin load calculator. Plus, your trading and gearing are integrated in one solution, administered by Bell Potter Capital. Check out the benefits.
Variable loan rate of 9.90% p.a. effective 08/11/2023.
Fixed and variable rate loans can be combined under one facility
Extensive approved security list to choose from
Alerts to let you know if your loan is close to margin call
Access to discounted prepaid fixed rate loan offers (offered before June 30 every year)
Cash and geared shares consolidated into one account
Portfolio immediately updated
Free conditional orders
Access to Bell Potter research and trading tools when you trade
Loan to Value Ratio displayed for every stock on the order pad
Real-time data for: credit limit, current loan balance, funds available and portfolio holding balance
Key features of the Bell Direct DML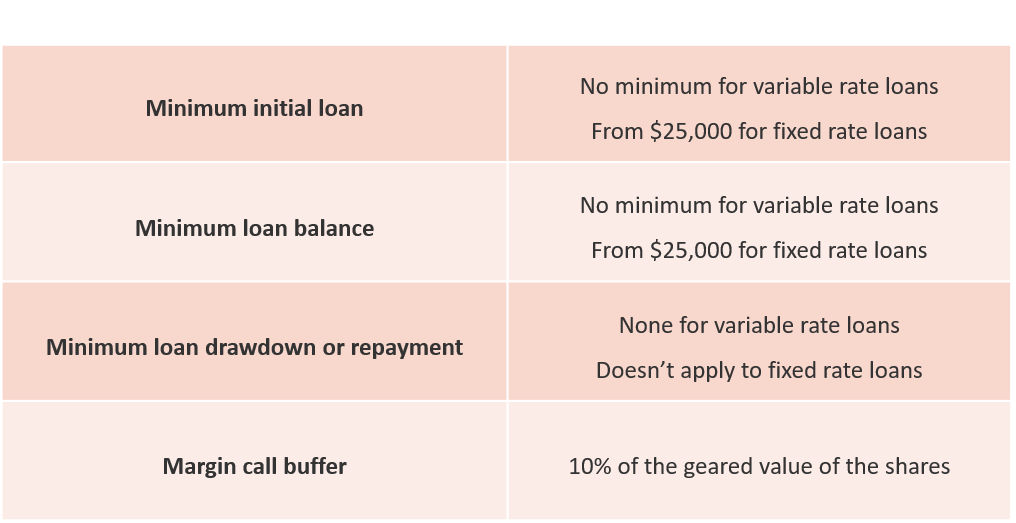 Check how much you can borrow
How to invest with a margin loan
To invest using margin lending, you can choose between 2 options:
You want to use an existing margin loan
Go to our application page. When you see: Which account do you want to use to settle your trades? Select '

An existing margin loan account

' and provide the details of your existing lender.
When you've completed your account application, contact your existing margin lender to authorise Bell Direct as your broker. We'll verify that your lending facility is active and open your account.
If you're already a Bell Direct client, your details will be pre-populated in the application.
Please note that margin lending is not available for superannuation accounts.
You want to open a Direct Margin Loan with us
Go to our application page. When you see: Which account do you want to use to settle your trades? Select '

A new margin loan account

'.
When you've completed your account application, you'll get an email with a credit limit request form to complete, sign and send us back. In this form, we ask you about your income, expenses, assets and any debts you may have so we can assess how much you can borrow.
You'll also get an email with your DML application form to complete, sign and send us back.
After we've reviewed the forms, we'll open your account.
If your margin loan is fully utilised, a decline of 9.1% in the total lending value of your portfolio will trigger a margin call and you'll need to top up your loan balance by selling some investments, transferring cash or additional security.