Transcript: Weekly Wrap 15 September
Thank you for joining me this Friday the 15th September, I'm Grady Wulff, a Market Analyst with Bell Direct and this is the weekly market update.
There's no denying Artificial Intelligence or AI is the phrase and phenomenon of 2023, paving the way for hyper efficiencies, cost-cutting and overall operational excellence for years to come across every industry around the world. With the Australian government's latest budget including $101m to help Aussie businesses adopt AI and quantum tech, the scale of in-house investing in AI is also ramping up across the board.
But much like ESG investing, there's a clear difference between saying you are investing in and adopting AI, and actually making meaningful steps to take action on an AI front. This reporting season we saw many companies cut dividends in favour of reinvesting profits into technological advancements and AI, but let's dive into which companies have acted versus those who are merely talking the talk in a bid to join the AI hype bandwagon.
With a goal of hitting $1bn in annual sales over the next 3-5 years, Temple & Webster have AI in their sights and investment strategy to help hit the target. The online homewares retailer boasts no debt and a strong cash balance while focusing heavily on AI investment through investing another $2m into Renovai, an Israeli AI startup that digitises interior design. T&W has also increased its number of software engineers, product managers and data scientists to introduce AI across all customer interactions from live chats to product descriptions and more. The aim of their AI strategy is to drive productivity growth whilst cutting operational costs.
WiseTech Global (ASX:WTC) is another example of a company leading the way through AI investment after the leading logistics solutions provider acquired Shipamax in November 2022. Shipamax is an industry-leading provider of data entry automation software for the logistics industry. The acquisition improves data entry processing for WiseTech, reduces the risk of incorrectly entering data, reduces time and resource effort and reduces costs associated with data exchange.
Coles Group (ASX:COL) has been experimenting with ChatGPT and Coles Liquor is utilising RELEX Solutions to forecast demand and automate stock replenishments to ensure shelves never run empty. The supermarket giant was an early adopter of predictive AI through the RELEX Solution integration announced back in April 2022. Coles has ramped up its spend in technology to streamline production and processes, from $809m in 2022 to $1bn in 2023.
A mining-focused technology company leading the way with AI integration for exploration is SensOre (ASX:S3N) through its AI-enhanced targeting and prospectivity mapping services. SensOre is backed by iron ore giant BHP (ASX:BHP) and aims to become the top performing minerals targeting company globally. The company's AI software works by applying integrated AI/Machine Learning algorithms to a large geoscience Data Cube to find the digital fingerprints and 'predict' the location of mineral deposits in three core steps; training, prediction and target analysis.
Lithium darling Pilbara Minerals (ASX:PLS) is leading the AI race in the lithium sector through utilising Plotlogic's Oresense AI technology at its Pilgangoora operations to increase production and reduce dilution with less ore going to waste. The Oresense technology ensures hyper efficiency in sorting the minerals mined at the PLS operations.
Some listed companies are just in the early foundations of investing in and integrating AI solutions into operations which may prove challenging to keep up with competition if they don't act and invest more in the near-term. When investing in AI-themed stocks there is also an alternative view to consider; why not invest in the physical data centres and warehouses that are home to the hardware required for major cloud services? Goodman Group (ASX:GMG) is one property company that is capitalising on the rising demand for AI through building three to four gigawatts worth of global data centres over the next decade.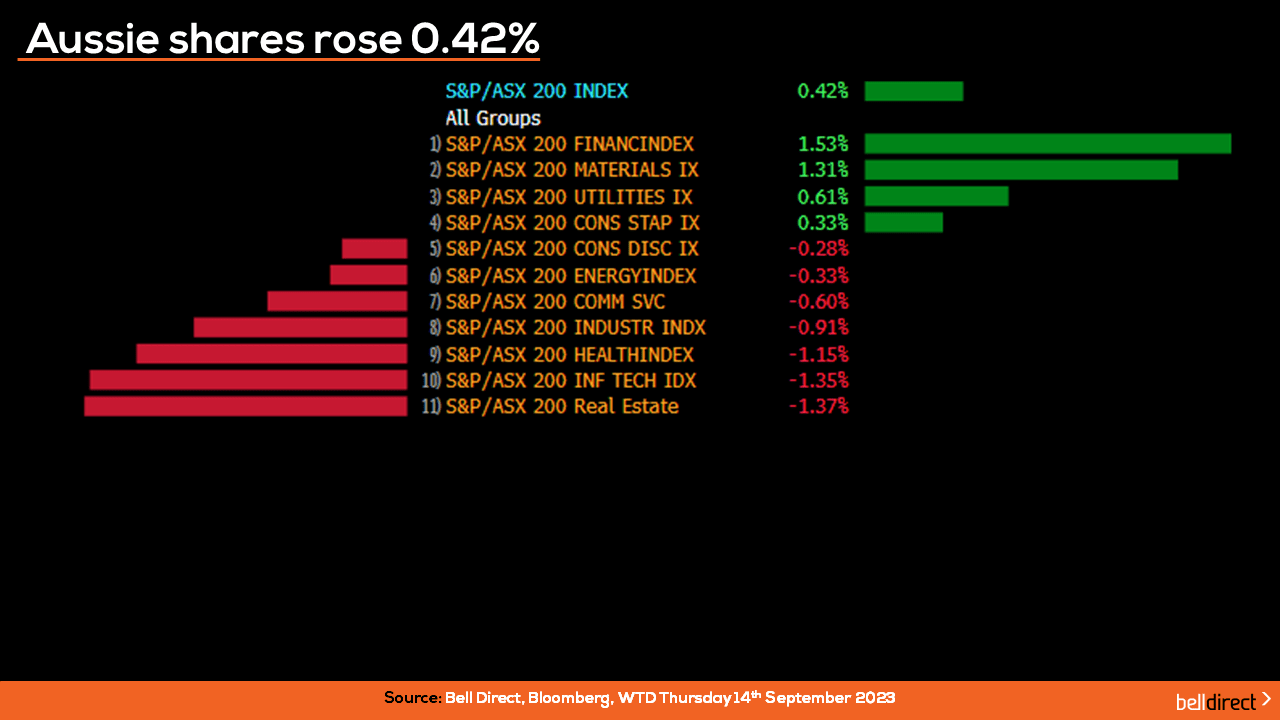 Locally from Monday to Thursday the ASX200 rose 0.42% buoyed by the finance sector adding 1.53% and materials stocks lifting 1.31% on strength in the price of iron ore as China released some favourable economic data signalling recovery is underway in the region.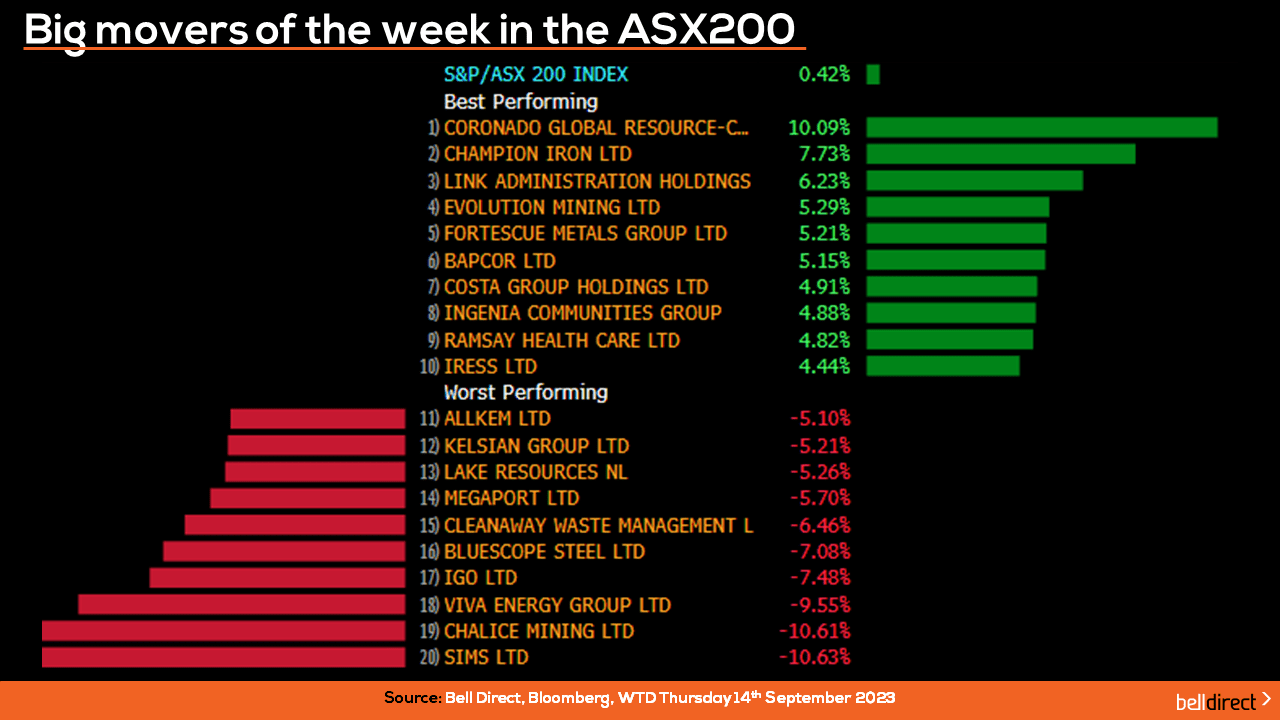 The winning stocks over the four trading days were led by Coronado Global Resources (ASX:CRN) rising 10.09% on strength in the price of coal, while Champion Iron (ASX:CIA) rose 7.73% amid the rising price of iron ore and Link Administration Holdings (ASX:LNK) added 6.23%.
On the losing end, Sims fell 10.63%, Chalice Mining (ASX:CHN) extended its losing run, falling 10.61% and Viva Energy Group (ASX:VEA) lost 9.55% over the four trading days.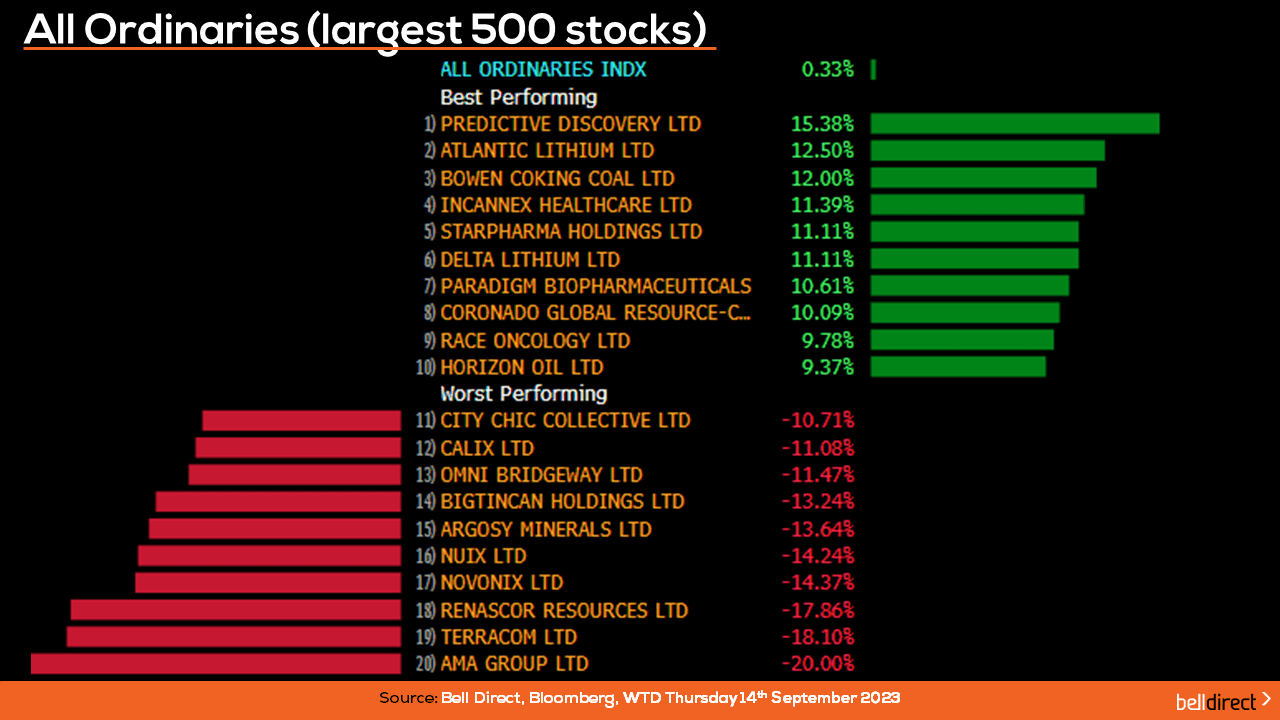 Taking a look at the broader market, the All Ords added 0.33% over the week led by Predictive Discovery (ASX:PDI) rising 15.38% while Atlantic Lithium (ASX:A11) rose 12.5% and Bowen Coking Coal (ASX:BCB) lifted 12%.
AMA Group (ASX:AMA) weighed on the All Ords, losing 20% while Terracom (ASX:TER) fell 18.10% and Renascor Resources (ASX:RNU) fell 17.86%.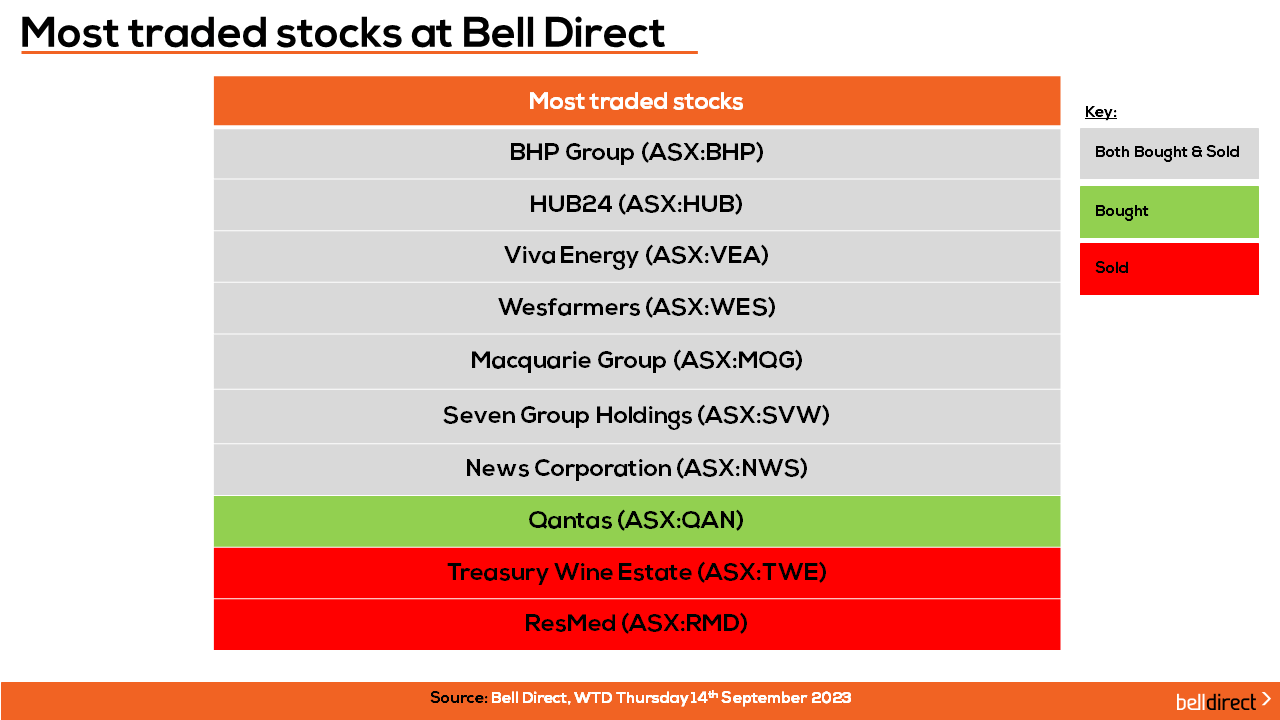 The most traded stocks by Bell Direct clients from Monday to Thursday were BHP (ASX:BHP), HUB24 (ASXHUB), Viva Energy (ASX:VEA), Wesfarmers (ASX:WES), Macquarie Group (ASX:MQG), Seven Group Holdings (ASX:SVW) and News Corporation (ASX:NWS).
Clients also bought into Qantas (ASX:QAN) while taking profits from Treasury Wine Estates (ASX:TWE) and ResMed (ASX:RMD).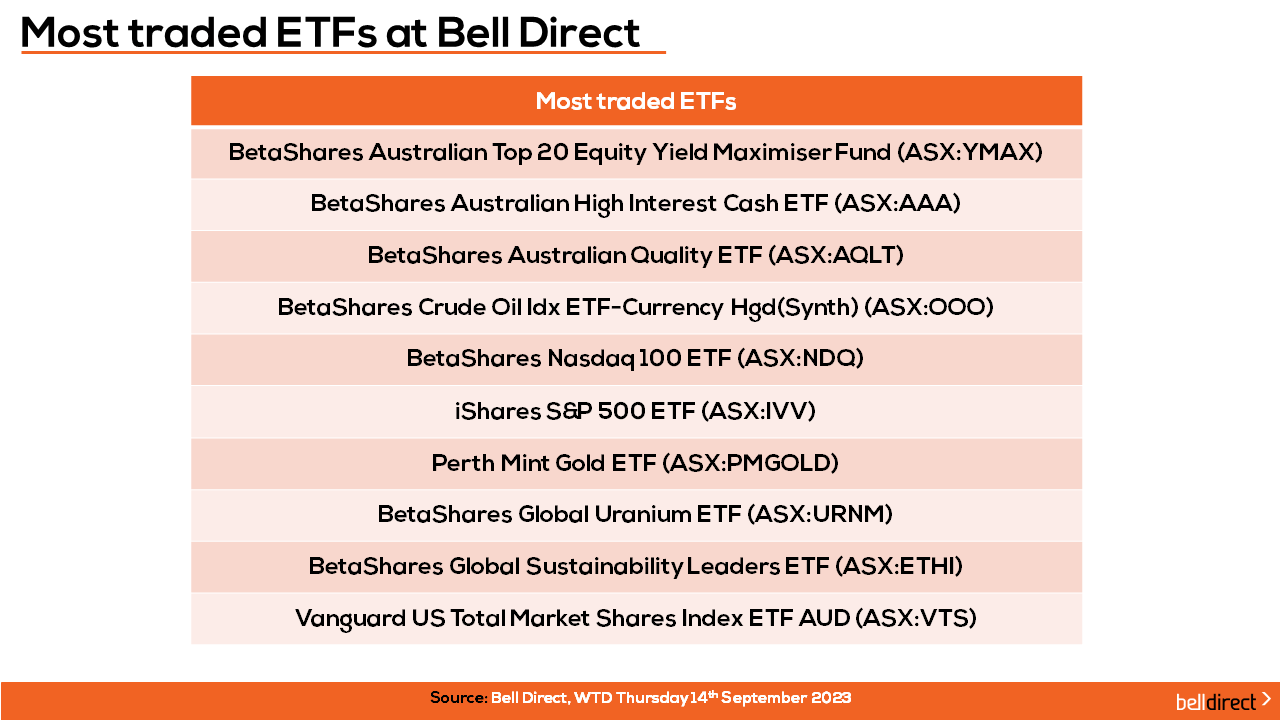 And the most traded ETFs were led by BetaShares Australian Top 20 Equity Yield Maximiser Fund, BetaShares Australian High Interest Cash ETF, BetaShares Australian Quality ETF.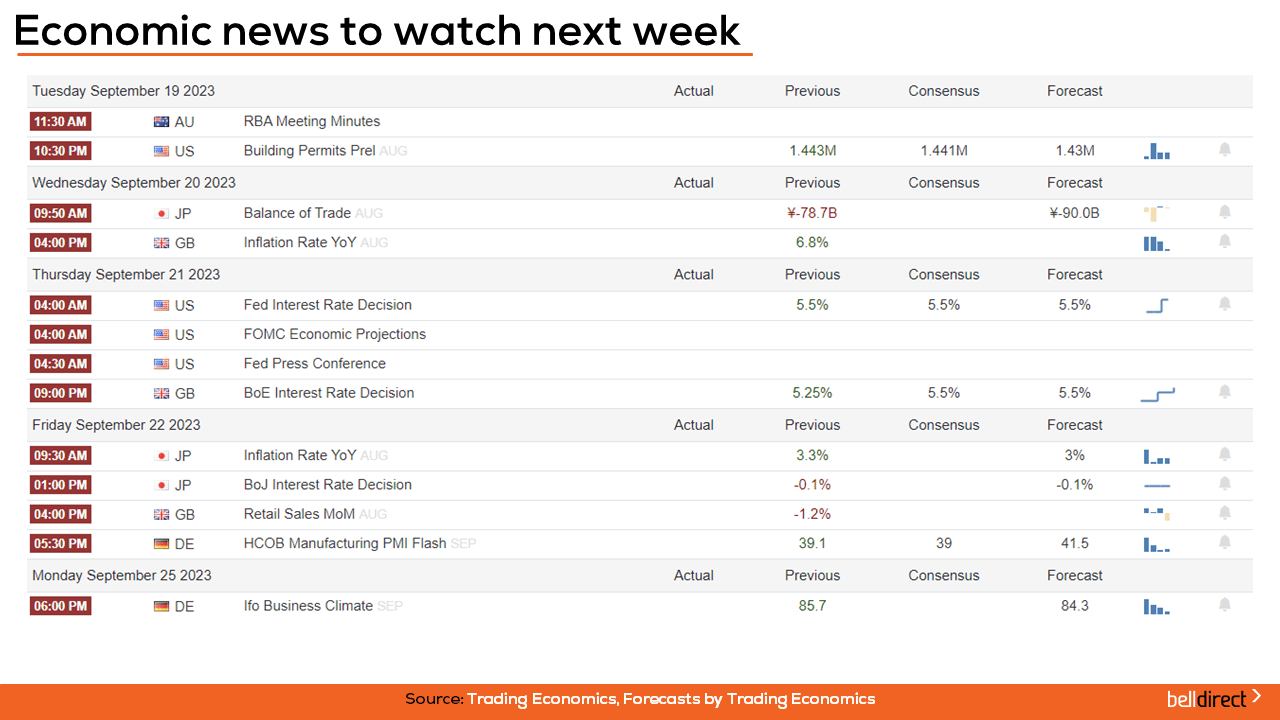 Taking a look at the week ahead, the RBA's latest meeting minutes will be released on Tuesday which will give investors an insight into the rate outlook from Australia's central bank.
Overseas, UK inflation data is out on Wednesday while the Fed's interest rate decision for the US is announced on Thursday with the expectation of the Fed to maintain the cash rate at 5.25% – 5.5% for the month ahead.
The bank of Japan is also announcing the Japanese rate decision on Friday which will be interesting to see if Japan's central bank maintains the -0.1% cash rate for another month.
And that's all we have time for today. Have a wonderful Friday, a great weekend and as always, happy investing!