Success with your SMSF is all about the company you keep
Are you keeping the right company?
This exclusive new partnership covers all bases when it comes to your SMSF.
Talk to a specialist
Don't miss out on the benefits of an integrated platform
Success with you SMSF is about the company you keep. Are you keeping the right company?
SMSF investors want control over their SMSF. You want to make your own decisions based on your own research and analysis. But managing the paperwork, tax, and compliance can be boring, time-consuming, and take you away from the fun stuff: identifying investment opportunities and building a portfolio based on your sound evidence-based analysis and insights.
That's where an integrated platform can help. An integrated platform allows you to build and manage your portfolio, identify and make sound investment decisions, and monitor everything in one place, daily, online, with all the paperwork taken care of.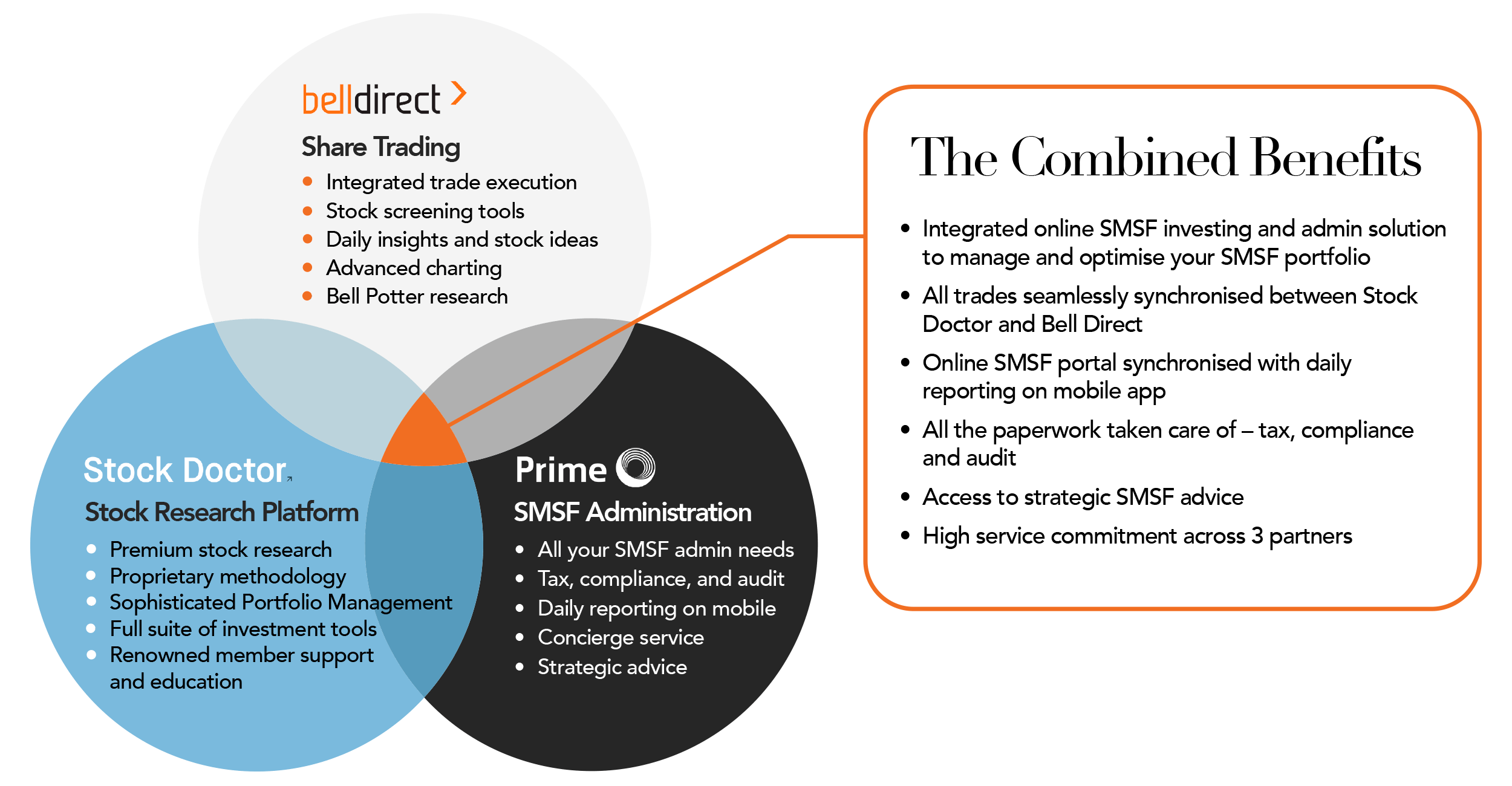 You need the right partners to do all this.
Bell Direct and our SMSF admin partner Prime Financial, have joined with Stock Doctor to give you an integrated solution that can help you take your SMSF to the next level.
It's an innovative, expert-lead solution, to help you find an edge with your super. We bring together specialists in each field, allowing you to:
Identify investment opportunities – with exclusive stock research,
Manage your portfolios – with total control and confidence,
Effortlessly put your decisions into action – with your Bell Direct trading account,
Save time – with a complete SMSF administration and concierge service.
And you can view your SMSF portfolio daily, online or on your mobile app.
We know moving your SMSF is a big deal. That's why you deserve to get big benefits.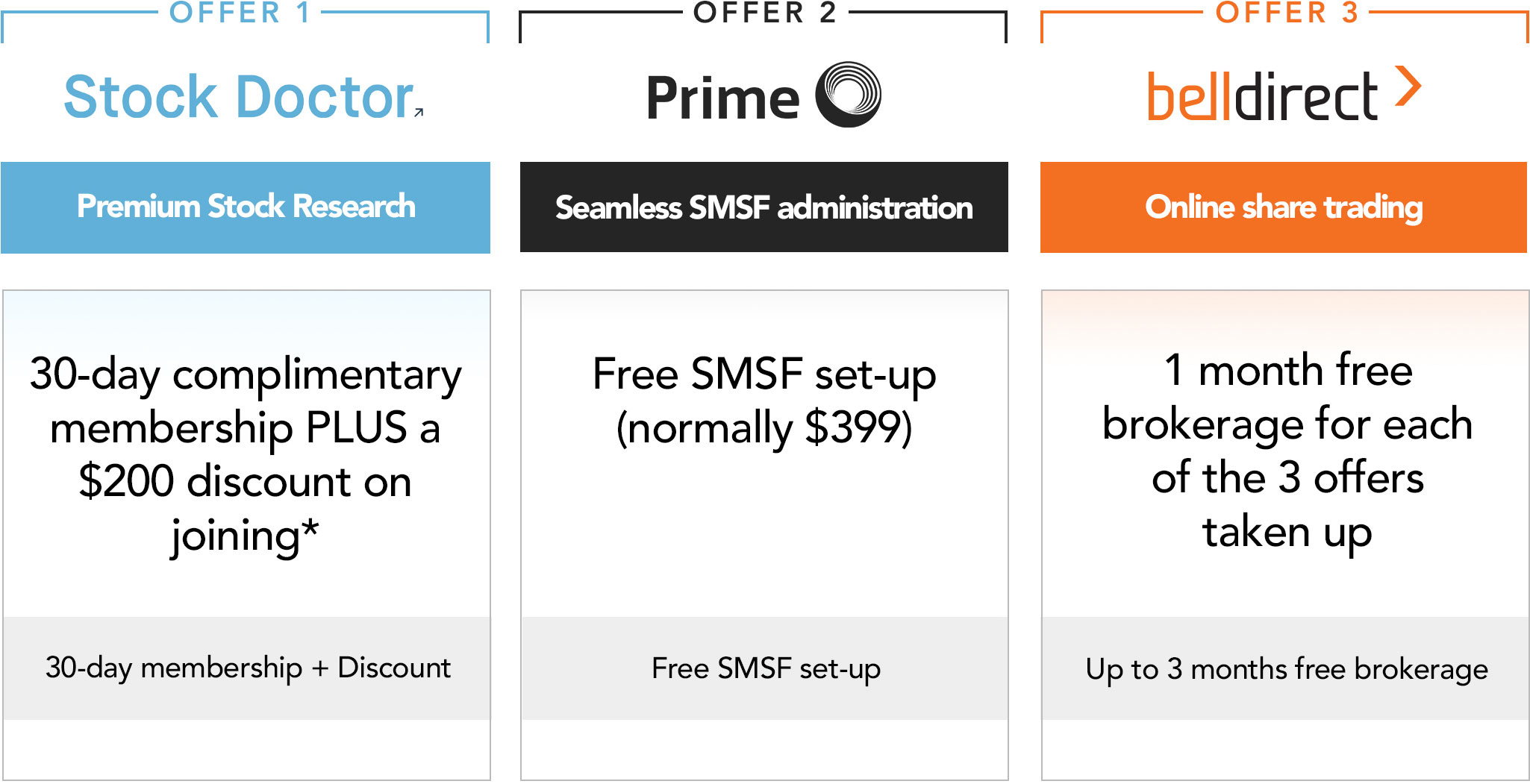 For a limited time only – offer ends on Thursday 7th December 2023.
Fill in the form to take up this one-time exclusive offer and choose the service and expertise you need to make your SMSF work for you. 
Stock Doctor provides me with all the fundamental analysis I require to make my investment decisions. Everything I need is at my fingertips at an instant, saving me hours of research.
Donald Sutherland
Stock Doctor Member (14+ years)
I am very pleased with Prime. I have called my adviser when I have questions and have always received prompt replies and all of the support I needed.
Bob & Denise
NSW
I manage my own SMSF and spend most trading days keeping up to speech with Bell Direct. Lots of information and ideas and for a reasonable brokerage fee. A customer for over 10 years and have recommended Bell Direct to many friends.
Finching 123
Sydney, NSW
Lincoln Indicators Pty Limited (Lincoln) ABN 23 006 715 573, as Corporate Authorised Representative of Lincoln Financial Group Pty Ltd ABN 70 609 751 966, AFSL 483167. This communication may contain general financial product advice or forward-looking statements regarding our intent, belief or current expectations with respect to the market conditions. Caution is advised in placing undue reliance on these forward-looking statements, as our advice has been prepared without taking account of your personal circumstances. Therefore, you should consider its appropriateness, in light of your objectives, financial situation and needs, before acting on it. Before acting on any advice, you should consider the appropriateness of the advice, and we recommend you obtain financial, legal and taxation advice before making a decision. Please refer to our Financial Services Guide (FSG) for more information at Lincoln Indicators Pty Ltd. If our advice relates to the acquisition or possible acquisition of a particular financial product, you should obtain a copy of and consider the Product Disclosure Statement (PDS) at Lincoln Indicators Pty Ltd before making any decision.
The Bell Direct service is provided by Third Party Platform Pty Limited trading as "Bell Direct" (ABN 74 121 227 905) an Australian Financial Services licensee (AFSL 314341) a Participant of the ASX Limited Group and a Trading Participant of Cboe Australia. Bell Direct does not provide investment advice. You should consider your own financial situation, particular needs and investment objectives before acting on any of the information available on https://www.belldirect.com.au/ .
This information has been prepared by Primestock Securities Limited ABN 67 089 676 068, AFSL 239180 ('Prime'). Prime accepts no obligation to correct or update the information or opinions in it. This information does not take into account your objectives, financial situation or needs. Before acting on this information, you should consider whether it is appropriate to your situation. It is recommended that you obtain financial, legal and taxation advice before making any financial investment decision. Prime is bound by the Australian Privacy Principles for the handling of personal information. Privacy Policy | Financial Services Guide.
Testimonials are provided by third parties for information purposes only and are not intended, and should not be taken to be financial product advice. Please refer to "Terms of Use", "Important Information", Terms and Conditions and The Privacy Policy Guide for Stock Doctor, Bell Direct and Prime for more information.
The promotion is not valid for cash or cash equivalent and is non-transferable. Cannot be combined with other offers, discounts or promotions. Promotions may be subject to availability. All monetary amounts specified in these terms and conditions are in Australian dollars (AUD). All pricing excludes GST. To redeem this promotion during the promotional period, you must complete the form submission included in the communication or landing page. Stock Doctor, Bell Direct and Prime reserves the right to modify or amend this promotion and cancel or suspend the promotion without prior notice. By completing the form or attempting to participate in this promotion, you agree to accept and be bound by these terms and conditions from Stock Doctor, Bell Direct and Prime Financial. The promotion from Bell Direct starts on Friday 27th October 2023 at 9:00 am AEDT and ends on Thursday 7th December 2023 at 5:00 pm AEDT. The promotion from Prime starts on Friday 27th October 2023 at 9:00 am AEDT and ends on Thursday 7th December 2023 at 5:00 pm AEDT. The promotional includes from Stock Doctor: 30-day complimentary membership to Stock Doctor. Promotion starts on Friday 27th Oct 2023 at 9:00 am AEDT and ends on Sunday 24th December 2023 at 5:00 pm AEDT and $200.00 AUD discount on new members joining Stock Doctor. Promotion starts on Friday 27th Oct 2023 at 9:00 am AEDT and ends on Sunday 24th March 2024 at 5:00 pm AEDT.