Thank you for joining us this Friday 9th November. I'm Sophia Mavridis, a Market Analyst with Bell Direct and this is your weekly market update.
The uranium market over the last month has seen increasing volatility, mostly led by demand across the nuclear fuel sector and limited near-term supply.
Globally, the share prices of uranium miners have rallied, with smaller miners outperforming the large-cap uranium stocks. This is common to see in the beginning of a commodity super-cycle, which is what we call an extended period of boom and bust in commodity markets, when prices significantly move below or above their long-term trends.
With this all-in mind, let's look at four ASX-listed companies that Bell Potter favour in the uranium market. These include Boss Energy (ASX:BOE), Paladin Energy (ASX:PDN), Deep Yellow (ASX:DYL) and Alligator Energy (ASX:AGE). Bell Potter says that these businesses offer an alternate supply source from the global heavyweights in stable jurisdictions. Boss Energy and Paladin Energy are to restart their respective assets over the next six months and could capture near-term price spikes. Meanwhile, Deep Yellow and Alligator Energy offer leverage to the growing uranium thematic.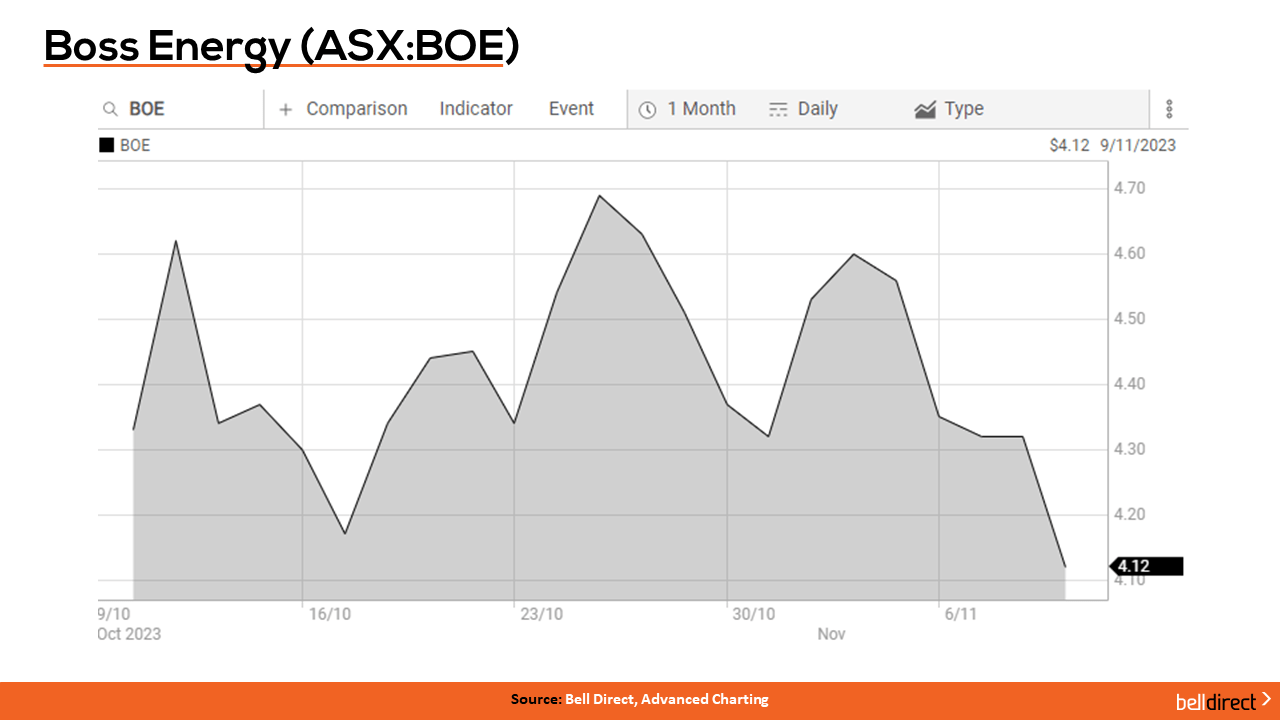 Boss Energy's Honeymoon mine uranium project is in South Australia, 80km northwest of Broken Hill, is commencing production in December 2023. Bell Potter has a Speculative Hold recommendation on the company, with a valuation of $5.53 per share. Uranium fundamentals support Bell Potter's pricing thesis, which is based on the advancement in nuclear energy, as well as a lack of near-term supply as producers exited the market post the Fukushima disaster.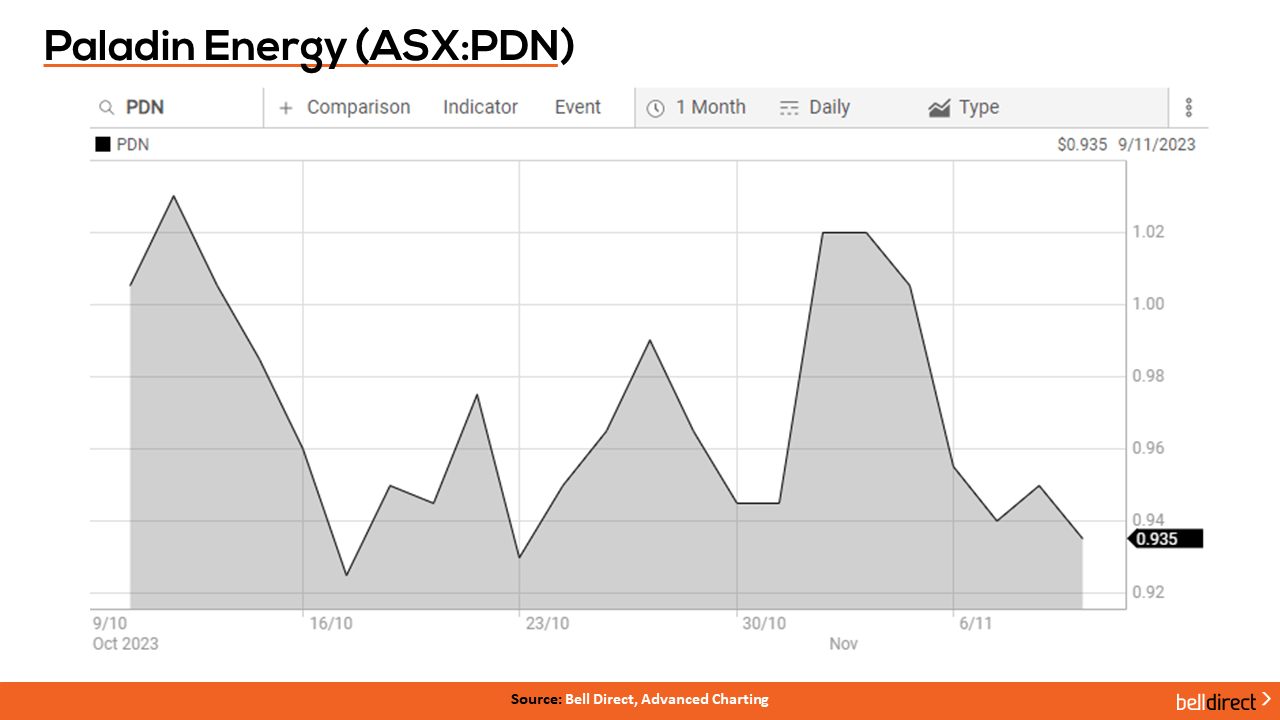 Paladin Energy's focus is the development of its 75% owned Langer Heinrich Mine located in Namibia. Bell Potter has another Speculative Hold recommendation on the company, with a valuation of $1.31 per share.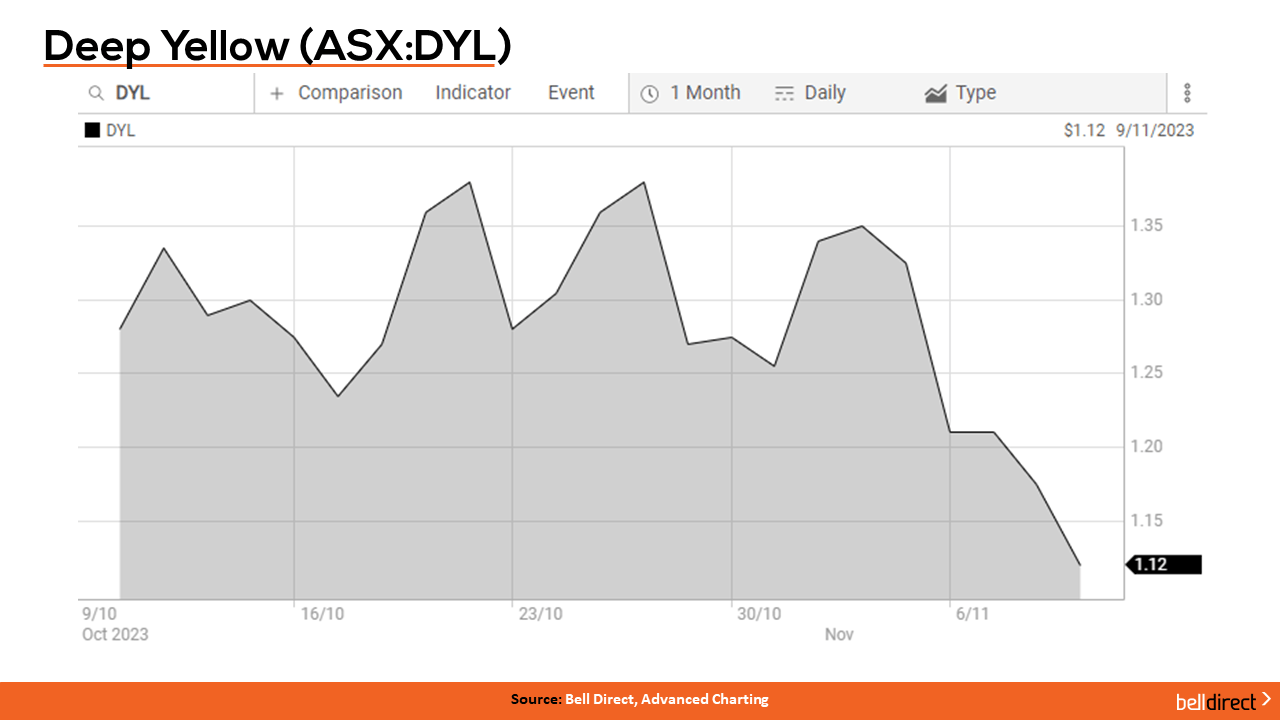 Deep Yellow is a uranium exploration company with two advanced projects, in Namibia and Western Australia. The company is also developing several early-stage uranium exploration assets including Omahola and Alligator Rivers. DYL's Q1 FY24 results saw key milestones and the company finished the quarter with $27 million in the bank. Bell Potter has a Speculative Buy rating on DYL with a valuation of $1.84 per share.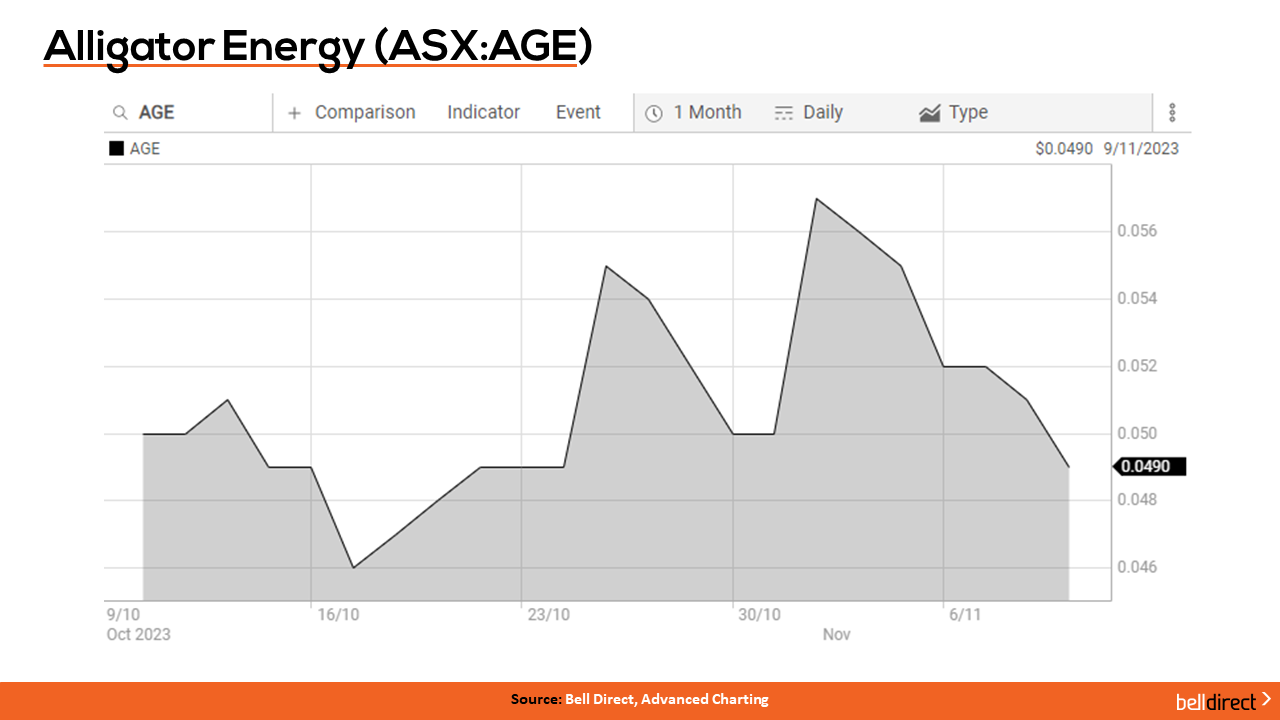 Lastly, Alligator Energy is currently advancing four projects at various stages from early exploration through to advanced exploration, with a strong focus on their uranium assets in South Australia and the Northen Territory. Bell Potter has a Speculative Buy rating on the stock with a valuation of $0.08 per share.
Looking now to the market's performance this week so far,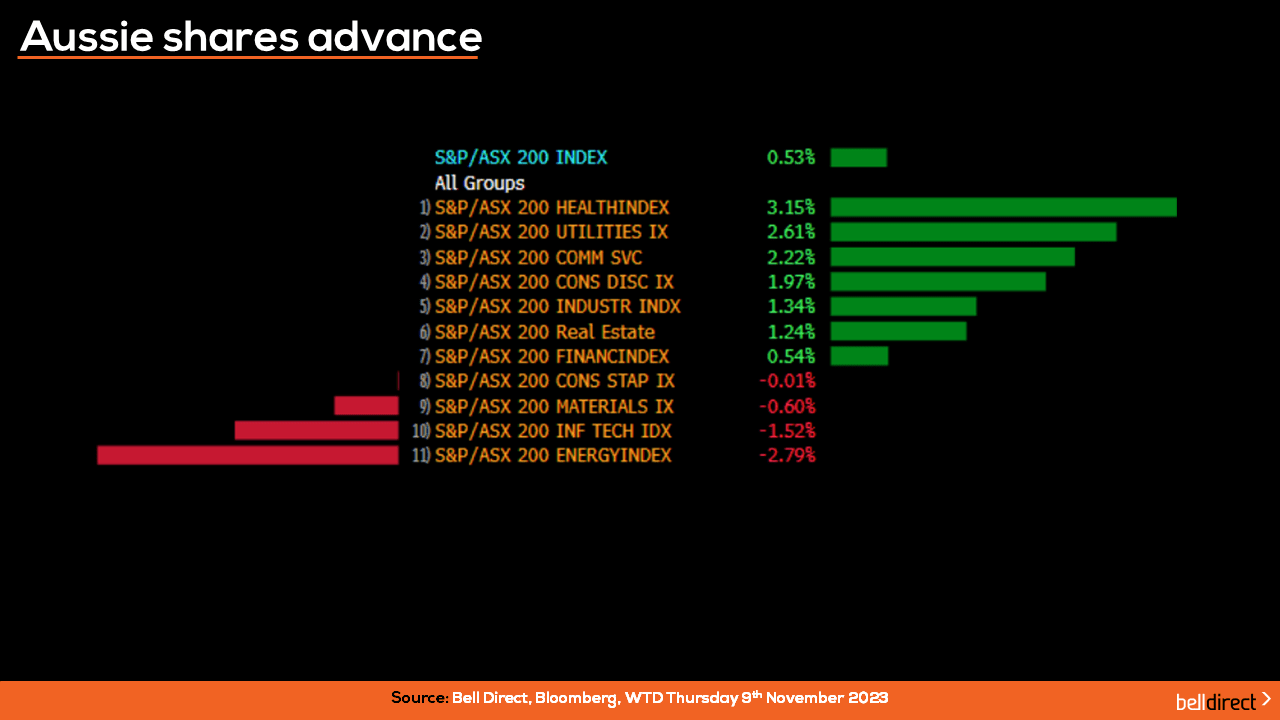 The Australian share market advanced 0.53% this week, with the healthcare sector up the most, followed by utilities, communication services and consumer discretionary. Meanwhile, energy, information technology and materials declined the most.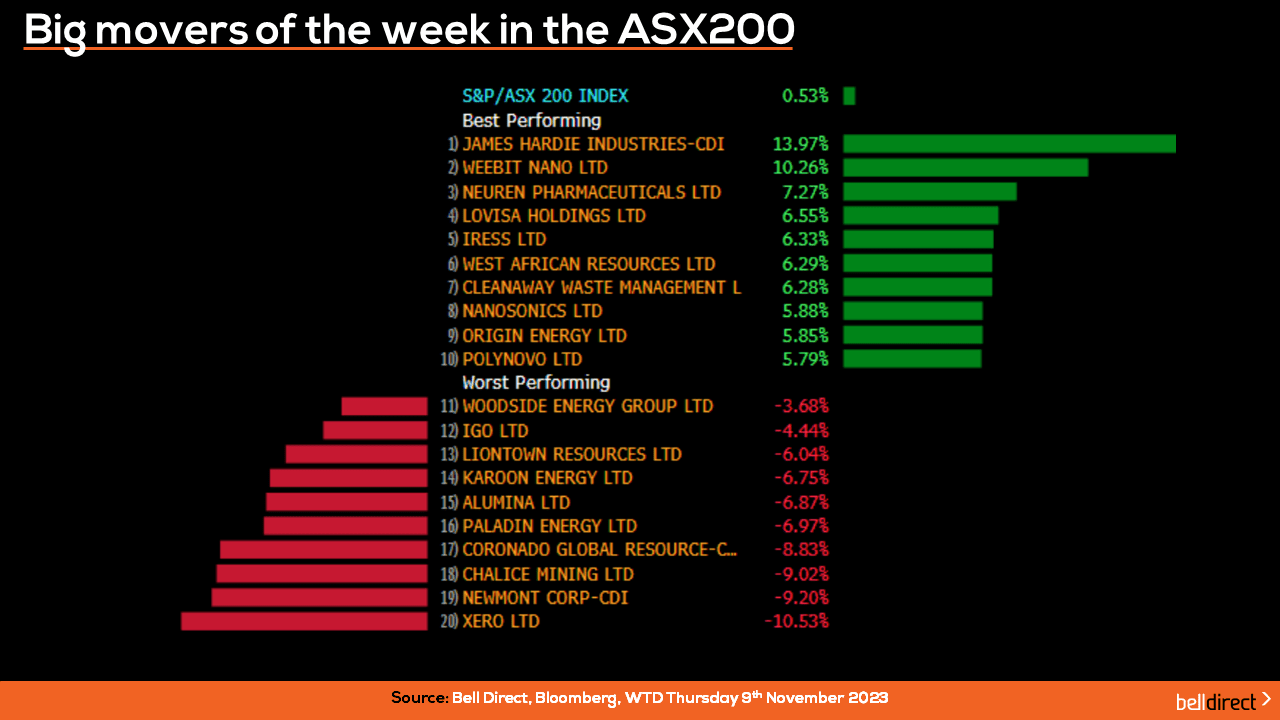 On the ASX200, James Hardie Industries, Weebit Nano and Neuren Pharmaceuticals were in the lead, while Xero, Newmont, Chalice Mining declined the most.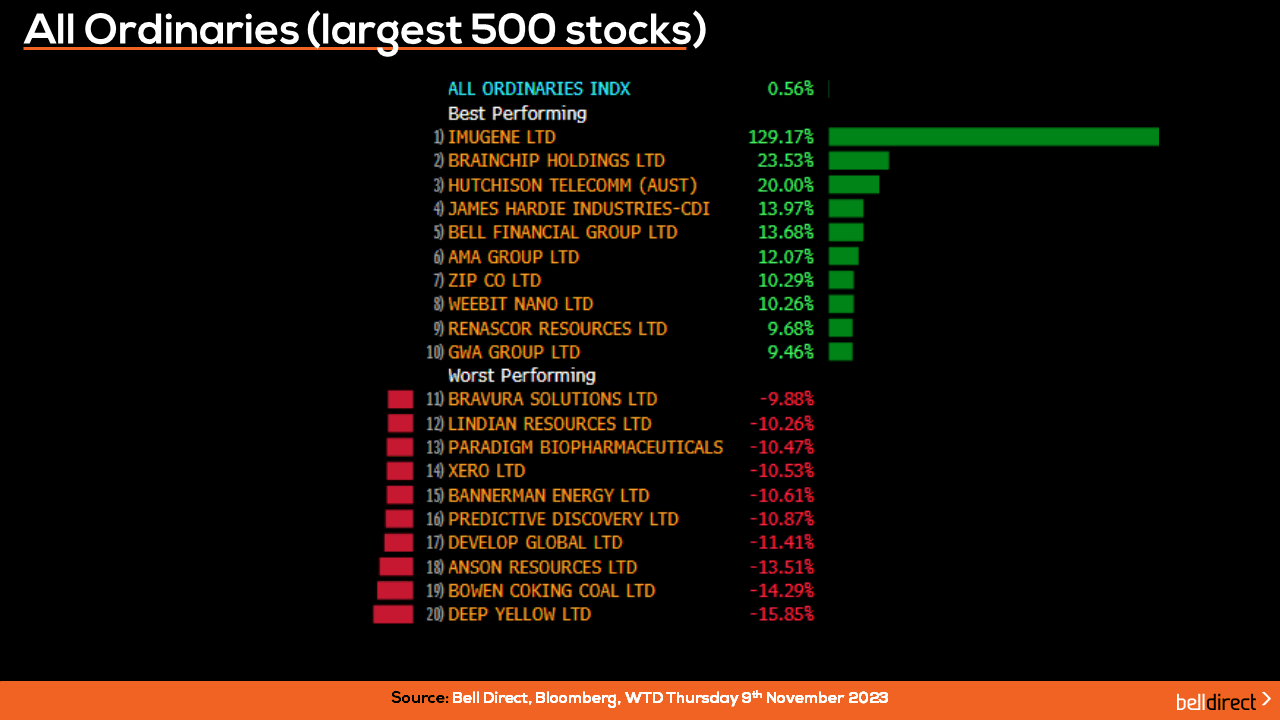 And on the All Ords, Imugene advanced an impressive 129% this week, driven by promising results from its latest biotechnology trail, which is evaluating the safety and efficiency of novel cancer killing virus VAXINIA.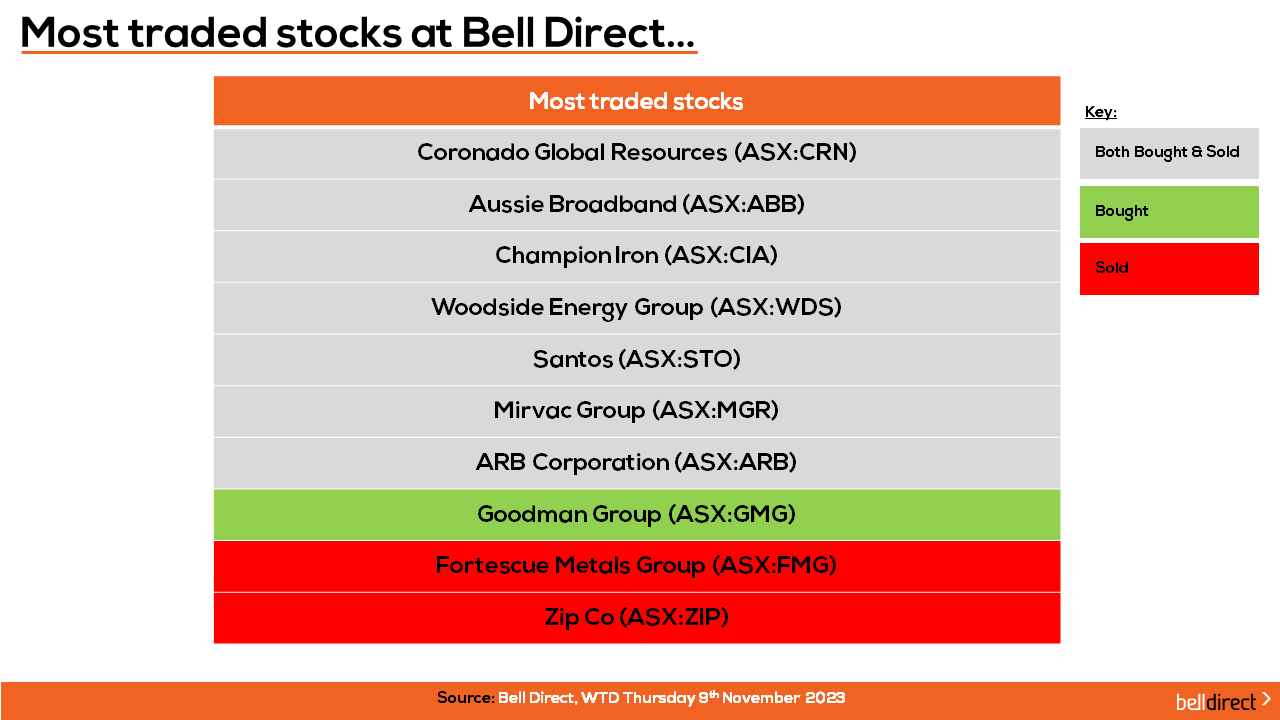 The most traded stocks by Bell Direct clients this week were Coronado Global Resources (ASX:CRN), Aussie Broadband (ASX:ABB), Champion Iron (ASX:CIA), Woodside Energy (ASX:WDS), Santos (ASX:STO), Mirvac Group (ASX:MGR) and ARB Corporation (ASX:ARB).
Clients also bought into Goodman Group (ASX:GMG), while took profits from Fortescue Metals Group (ASX:FMG) and Zip (ASX:ZIP).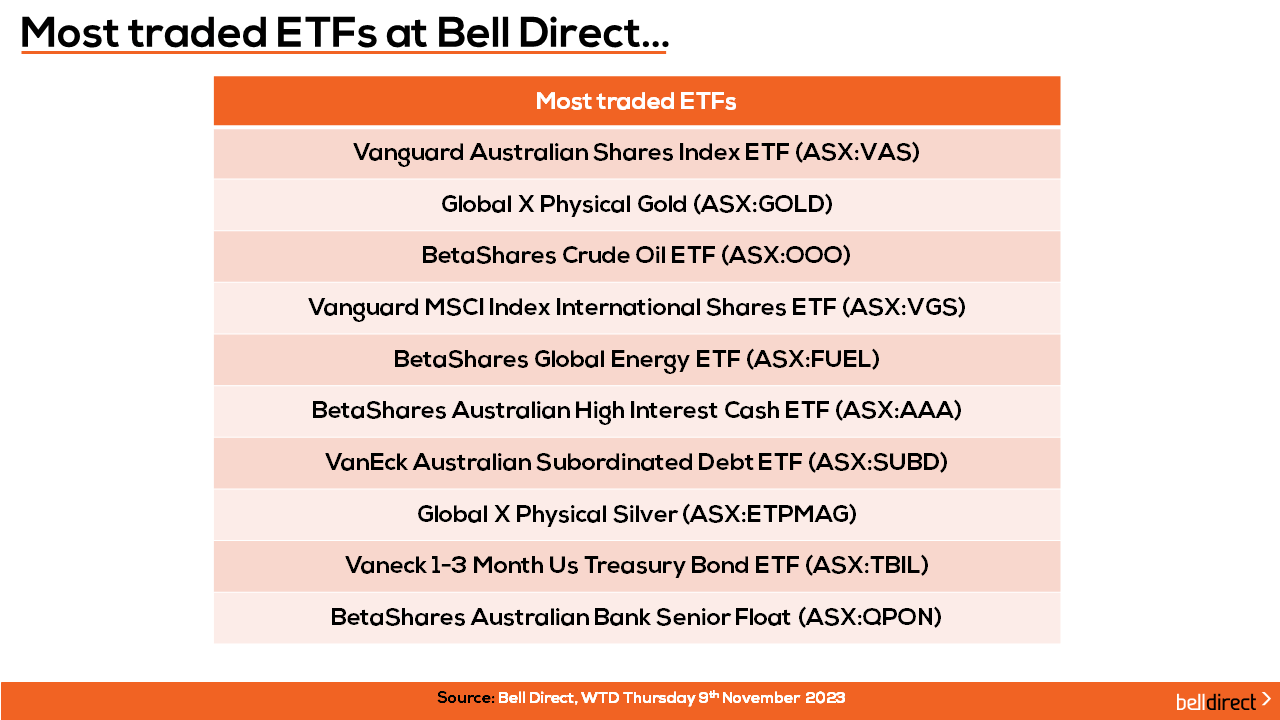 And the most traded ETFs this week were the Vanguard Australian Shares ETF (ASX:VAS), the Global X Physical Gold ETF (ASX:GOLD) and the BetaShares Crude Oil ETF (ASX:OOO).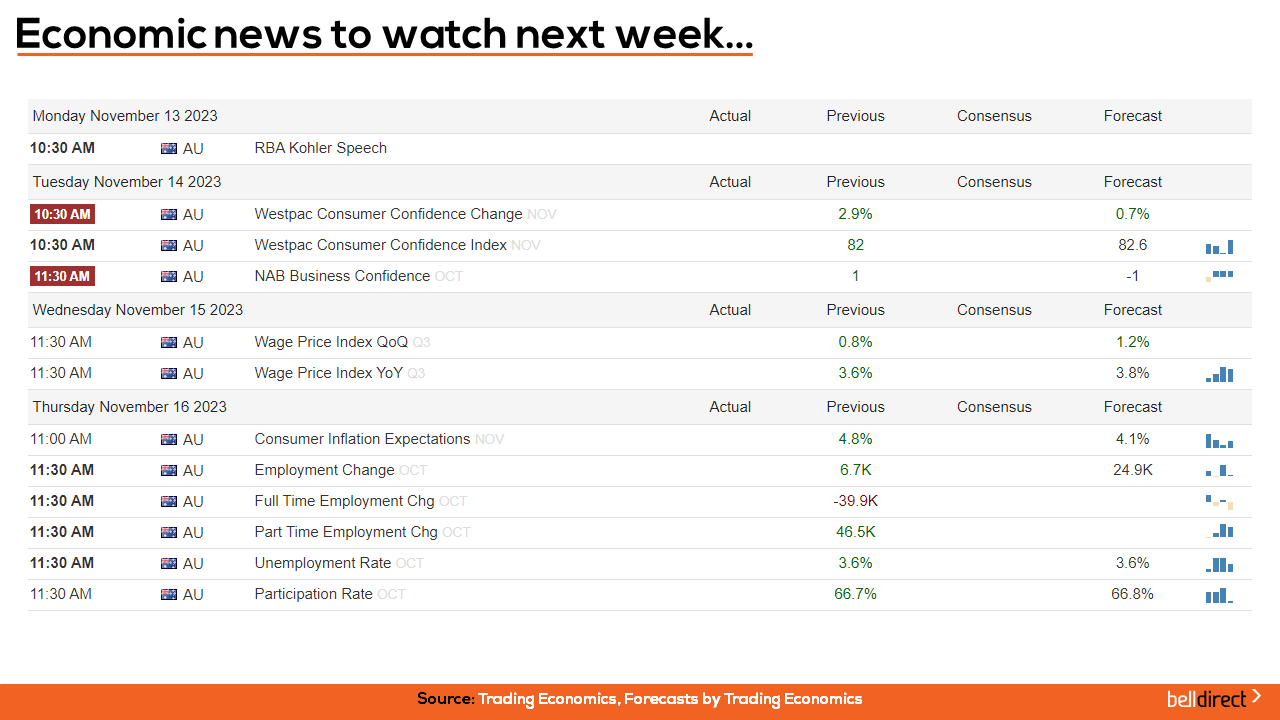 And to end, economic data to watch out for next week, on Tuesday Westpac's consumer confidence data for November and NAB's business confidence data for October will be released. And on Thursday we'll receive an update on the unemployment rate.
That's all for this week. I'm Sophia Mavridis with Bell Direct. Have a great day and happy trading!